THE NEW YORK TIMES, Zoey Poll
Turning the Gestures of Everyday Life Into Art – The New York Times (nytimes.com)
De Standaard ****, Charlotte de Somviele
"It is kinetical empathy at its best."
De Volkskrant ****, Annette Embrechts
"I recognize my 'tra\nslated' tics and gestures, whispering mixed with those of Pavel, Monika, Tosca and Herr Stamm. Highly an original work."

Museumtijdschrift, Edo Dijksterhuis
"Museum Motus Mori is a kinetic portrait of all of us. The way this comes to form, via the body instead of via the mind, is more effective, more direct and more touching than any video, photo or text will ever be."
NRC, Francine van der Wiel
"In Museum Motus Mori Heitmann collects, describes, archives and exhibits the minimal movements, we all make every day, but which immediately disappear. – the beauty and vulnerability of dance in a sophisticated concept."
Anyone who studies the archives of humankind sees an one-sided image of humanity; an image that is focused on measurability and control. We reduce people to comparable data, to categorizable differences, in order to be able to optimize control over our fate. But is this how we want to be remembered? As strings of data, feeding self-sustaining algorithms?
Katja Heitmann wants to write a different history. She wants to create an archive in which the most essential, paradoxical and elusive core of mankind is preserved. An attempt to archive the impossible: an archive of movement.
A repository for movement requires an active institute that literally moves for and through people. In such an institution a new form of historiography takes place: not a theoretical but an embodied historiography. The body as an archive.
In the period 2021-2024 Katja Heitmann and her team will develope an institute for movement-heritage: Motus Mori. This institute focuses on the collection, preservation, display and transfer of the human movement.
Motus Mori Institute is a place for process. Every development is shared with the audience in public manifestations. This institute literally 'moves'; in the years to come, as it will be located in various cities, presenting the archive in exhibitions, performances, installations and rituals.
See for the dedicated website www.motusmori.com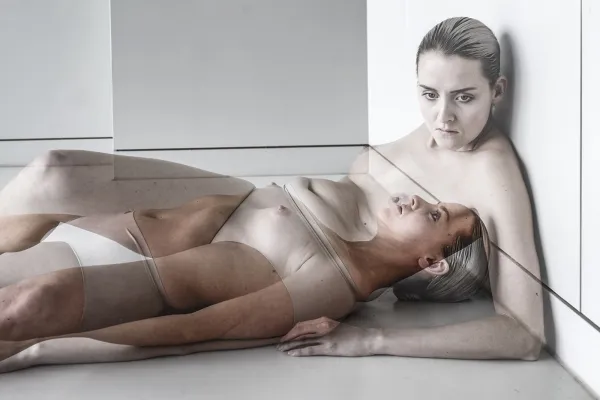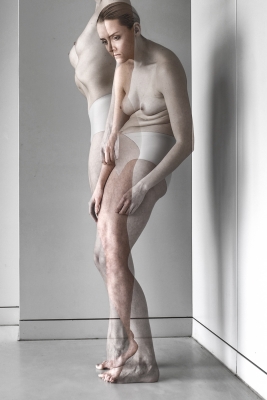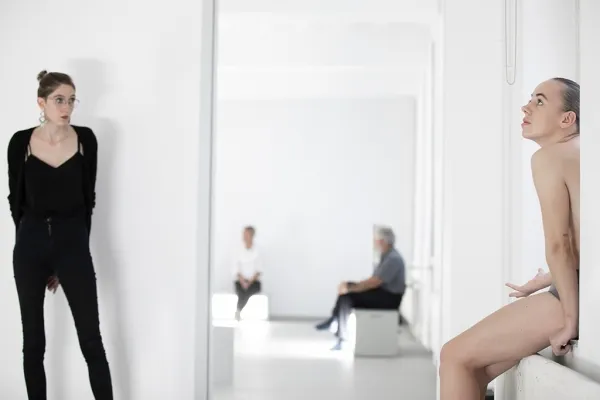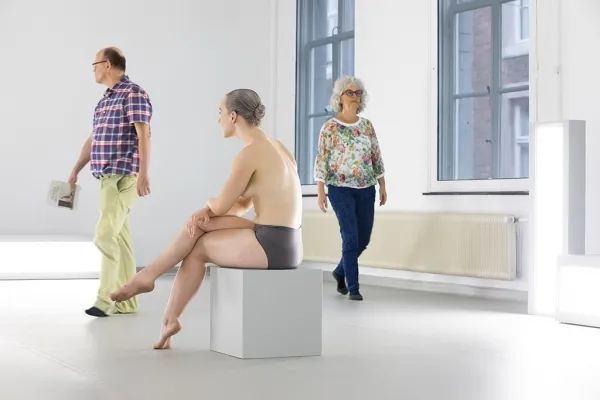 "My mother passed away 12 years ago, my father last year… Nothing is left, at least no material stuff, no house, no last will, no goodbye letter. Sometimes I manage to recreate the same hand gesture of my mother. Or the shoulder- head- pupil-chincombination of my father, which he always did when he was having hard times… Sometimes I see an older man walk in the street and in the moment I think it is him… This tired body, which keeps on going, round back, shoulder hanging front, while the head tries to look up…I often wish I would have observed them more carefully. So I would be able to keep their movement-heritage alive." Katja Heitmann (July 2019)
In 2019 Katja and her team started developing methods to collect, analyse and preserve the human movement. In museums, galleries, churches, theatres they expose these durational (5 hour) performances in-situ. The result are impressive multi-day – multi hour performance-expositions of humanity.
In spring 2019 we worked together with STRP festival (Eindhoven, NL). We were part of the visual art- expo for 10 days in a row. We developed the movement interview to collect movements from the audience and showing the preservation-process. 5 performers, 10 days, 8 hours a day – Motus Mori: laboratorium.
In autumn 2019 we collaborated with Museum Marres -house for contemporary culture- (Maastricht, NL) and performed a museum of movement for 6 weeks long with 10 performers, 6 days a week, 5 hours a day – Motus Mori MUSEUM.
In spring/ summer 2020 we took a next step together with tanzhaus nrw (DE) and worked in the city on location, in collaboration with the Diakonie Düsseldorf/ Flingern; creating an movement archive for and with the citizien of Düsseldorf- Motus Mori Düsseldorf.
In autumn 2020 we transformed the main stage of Theatre De Nieuwe Vorst into a white cube-museum, open to public for 4 weeks long – Motus Mori Tilburg.
In 2021 Motus Mori settled down in Den Haag (korzo), Utrecht (SPRING) , 's-Hertogenbosch (TF Boulevard) and Brugge (December Dance, BE). In personal one-on-one performances the visitor is meeting other people from the archive through the body of the dancer; Motus Mori: meeting the archive. We developed a physical index of the archive to research common human movements between different people.
In Tilburg we opened our own Motus Mori-gallery, by visit on personal appointment.
Credits Motus Mori Museum (2019 – now)
choreography & concept: Katja Heitmann
music & production: Sander van der Schaaf
artistic assistance: Moene Roovers
movement coach: Wies Berkhout
artistic advice: Christina Flick, Ingrid de Rond, Liesbeth Groot Nibbelink
video & photography; Hanneke Wetzer
performers/movement-archivists; Wies Berkhout, Eleni Ploumi, Ornella Prieto, Julia Drittij, Lea Christensen, Rebecca Collins, Karolien Wauters, Manou Koreman, Twan van Diest, Adina Ternström, Merle Schiebergen, Anne Roeper, Leanne Hekkert, Dorothea Mende, Rachel Rijsdijk, Cynthia Verpoorten, Myrthe Marchal, Ines Pona, Clara Grosjean
co-production: tanzhaus nrw (DE), Marres house for contemporary culture (NL), STRP Festival for art and technology (NL), DansBrabant (NL)
partners: SPRING Performing Arts Festival (NL), Theaterfestival Boulevard (NL), December Dance Brugge (BE), CaDance/ Korzo (NL), Theater De Nieuwe Vorst (NL), Arcadia Leeuwarden (NL), International Dance Theatres festival/ Centrum Kultury Lublin (PL), Grand Theatre Groningen (NL)
supported by: Fonds Podiumkunsten, Provincie Noord Brabant, Gemeente Tilburg, Grensverleggers-De Buren, Bündnis Internationaler Produktionshäuser, Die Beauftragte der Bundesregierung für Kultur und Medien, Stichting Dioraphte